A Jeffrey Lee Pierce and Gun Club Chronology
Chronology written by Ryan Leach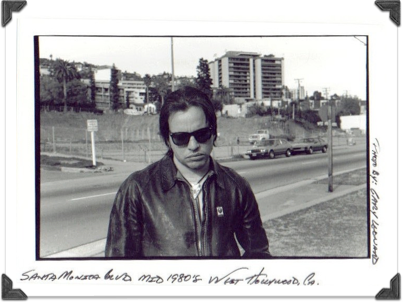 June 27, 1958 Jeffrey Lee Pierce is born to Margie and Robert Pierce in Montebello, California at Montebello Community Hospital. Jeffrey's mother Margie Pierce is a stay-at-home mom; Jeffrey's father Robert Pierce is employed as a union organizer and arbitrator (Local 1710 Electrical Workers Union).

May 18, 1961 Jacqui Pierce, Jeffrey's sole sibling, is born at Rio Hondo Hospital in Downey, California.

1968 Begins playing guitar.

1972 Attends Granada Hills High School.

1973 The Pierce family moves from El Monte (Los Angeles County) to Granada Hills (San Fernando Valley, California). Along with school friend Steven Tash, Jeffrey makes frequent visits to the Lee Strasberg Theatre and Film Institute in West Hollywood. A love of acting and music takes root in Pierce.

1976 Graduates high school. Pierce's interest in acting wanes, his love of music intensifies. Blondie's eponymous debut is released. Pierce becomes a lifelong fan of the group (particularly Debbie Harry), and eventually heads Blondie's West Coast fan club.

1977 Briefly attends California State University Northridge (San Fernando Valley).

1978 – 1979 Margie and Robert Pierce divorce. Inspired by the burgeoning Los Angeles punk scene, Pierce begins writing (under the alias Ranking Jeffrey Lea) for Claude Bessy's seminal fanzine Slash. Jeffrey interviews Bob Marley at his mother's home on Overland Avenue in West Los Angeles¡­most of Pierce's Slash articles reflect his obsession with reggae. Pierce meets L.A. rock scene maven Phast Phreddie Patterson. Patterson, who has both an incredible record collection and a vast knowledge of American roots music, leaves an indelible mark on Jeffrey, tutoring the kid from the Valley on Delta blues and reggae. Jeffrey plays a one-off show for the short-lived group the Cyclones. Notable L.A.-based rock writer and future poet Pleasant Gehman is the group's vocalist. Pierce forms his first band a power pop group dubbed the Red Lights. Anna Statman, who would later work for Slash Records (she was responsible for signing the Violent Femmes to the label), is the group's bassist. An unreleased demo of the group survives. The Red Lights play a handful of shows before imploding. With the money received from her divorce settlement, Margie Pierce buys a home in Reseda, California (San Fernando Valley). It's at this home on Hatton Avenue that the Creeping Ritual (an early incarnation of the Gun Club) begins practicing.

1980 – The Beginning of the Gun Club Forms the Creeping Ritual. The group is comprised of Jeffrey Pierce (vocals), Kid Congo Powers (guitar), rock writer Don Snowden (bass), and Brad Dunning (drums). Friend Keith Morris (vocalist; Black Flag, Circle Jerks) suggests the title of the Gun Club to Jeffrey Pierce as a better name for his fledgling band. Pierce agrees; the Creeping Ritual is renamed the Gun Club. Pierce pens the music to the Circle Jerks's ¡°Group Sex¡± in exchange for the new moniker.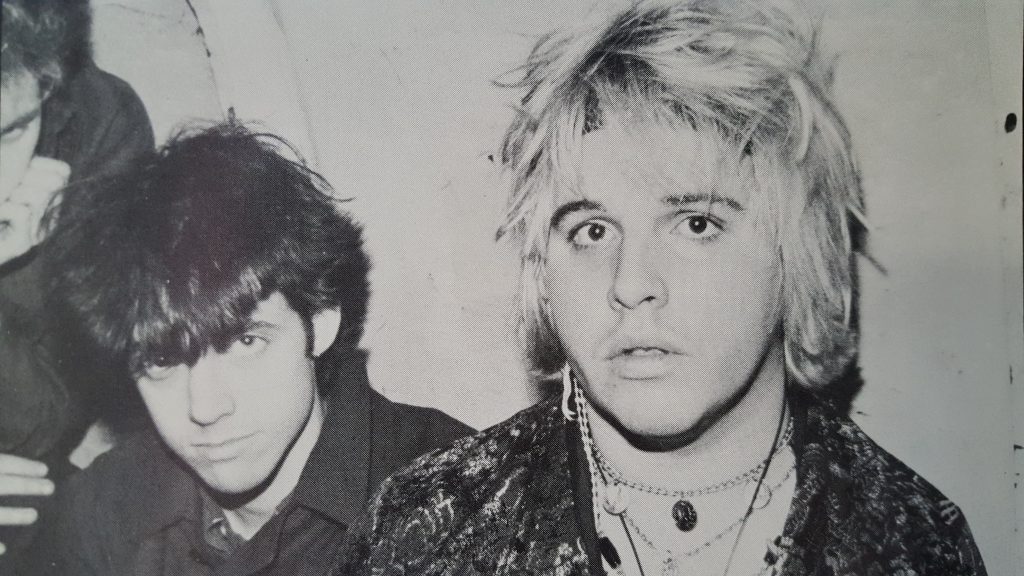 Late 1980 Drummer Brad Dunning leaves the Gun Club. (Dunning would go onto a very successful career as an interior designer.) Snowden also drops out of the Gun Club to focus on his other band, Phast Phreddie's Thee Precisions. At Dunning and Snowden's last Gun Club gig at the Hong Kong Caf¨¦, ex-Bags Rob Ritter (1955-1990) and Terry Graham compliment Jeffrey Pierce and Kid Congo Powers on their musical direction. Upon hearing from Pierce that the Gun Club's rhythm section is dropping out, Ritter and Graham sign on as the group's new time keepers (Graham on drums, Ritter on bass). The new Gun Club lineup of Jeffrey Lee Pierce (vocals), Kid Congo Powers (guitar), Rob Ritter (bass), and Terry Graham plays sporadically around Los Angeles. A live lo-fi recording entitled The Birth, The Death, The Ghost capturing this short-lived incarnation will be released in 1984. Kid Congo Powers leaves the Gun Club to join the Cramps. Orange County resident Ward Dotson becomes the Gun Club's new guitarist. With the exception of a few fans, the Gun Club is met largely with indifference sometimes hostility in Los Angeles.

1981 – Fire of Love-era Lineup The Gun Club's lineup consists of Jeffrey Pierce (vocals), Ward Dotson (guitar), Rob Ritter (bass), and Terry Graham (drums). The Gun Club cuts its first studio tracks for the super lo-fi Keats Rides a Harley compilation. The Gun Club is recorded (essentially live) by the Last's Vitus Matare; the collection is put out by Los Angeles's most erudite band, 100 Flowers. The Plugz's Tito Larriva offers to release an EPs worth of Gun Club material on his record label, Fatima. Jeffrey Pierce readily agrees. Unfortunately just after recording the tracks Fatima goes belly up. Pierce, the tireless self-promoter, hounds Slash Record's Bob Biggs to release the Fatima recordings and pay for studio to time to round out a Gun Club long player. Biggs eventually agrees although the band's debut will be released on Ruby Records, Slash's subsidiary label. The group cuts a few more tracks over the course of a couple of all-night recording sessions. Chris D. (Flesh Eaters, Divine Horsemen) produces. The Gun Club's seminal debut, Fire of Love, is released. The band's first extensive national tour is underway by the end of the year.

Early 1982 Fire of Love catches on like wildfire with East Coast fans.

March 1982 Jeffrey Pierce appears on the cover of the very influential rock rag, the New York Rocker. Future Yo La Tengo guitarist Ira Kaplan conducts the interview.

Mid-1982 – The Release of Miami The Gun Club spends an extensive amount of time in New York, recording their sophomore album Miami with producer Chris Stein (guitarist of Blondie). Miami takes more than two months to record (a long time for the early Gun Club) because of Chris Stein's near-fatal fight with pemphigus.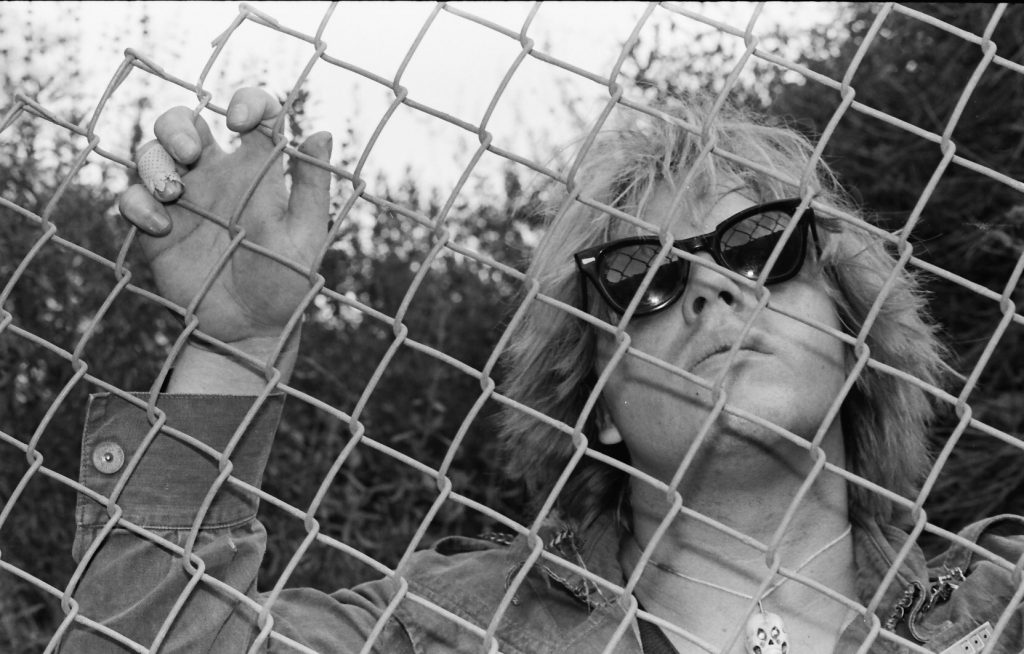 Just after the recording sessions for Miami are finished, Rob Ritter, inarguably one of the most talented musicians to come out of Los Angeles's punk scene, quits the Gun Club. (Rob would go on to play bass in 45 Grave, Thelonious Monster, and Silver Chalice. Unfortunately Ritter died in 1990 of a drug overdose. He is loved by all who knew him.Miami is released to favorable reviews. Patricia Morrison, formerly of the Bags, takes Ritter's place. Ward Dotson brings in a female second guitarist named Annie (surname unknown). Her tenure with the Gun Club is very brief, but band shots of her in the Pierce, Morrison, Dotson, Graham lineup are taken.

Late-1982 Starts Tex and the Horseheads with Linda Texacala Jones. After a mini-tour of Europe, Ward Dotson and Jeffrey Pierce suffer irreconcilable differences. Ward Dotson leaves the Gun Club. (Dotson would go on to form the Pontiac Brothers and the Liquor Giants.) Formidable drummer Terry Graham leaves the Gun Club. Drummer Dee Pop joins the Gun Club. Memphian guitarist Jim Duckworth (formerly of the Panther Burns, Alex Chilton's solo guitarist) joins the Gun Club.

Early 1983 The Death Party Lineup The Gun Club's lineup now consists of Jeffrey Lee Pierce (vocals), Patricia Morrison (bass), Jim Duckworth (guitar), and Dee Pop (drums). The Gun Club records the Death Party EP, again with Chris Stein producing. (Due to logistical reasons, New York scenester Jimmy Joe Uliana [now deceased] competently handles bass duties for the absent Patricia Morrison.) The Death Party EP is released to generally favorable reviews.

May 1983 Jeffrey makes the cover of the NME. The group is photographed by renowned photographer Anton Corbijn. The group embarks on an extensive European tour. The trek is plagued by Jeffrey Pierce and Dee Pop's excessive alcohol and drug consumption.

Late 1983 Drummer Dee Pop leaves the Gun Club.Terry Graham rejoins the band. In route to LAX Airport for a plane headed to Australia, Terry Graham and Jim Duckworth decide to quit the Gun Club over financial concerns with a booking agent. Jeffrey Pierce phones Kid Congo Powers from Australia, asking the latter if he'd like to return to the Gun Club. Kid, who had a falling out with the Cramps earlier in the year, decides to accept.

1984 The Las Vegas Story LP/Tour Terry Graham rejoins the Gun Club. The 1984 lineup of the Gun Club consists of Jeffrey Pierce (vocals, guitar), Patricia Morrison (bass), Kid Congo Powers (guitar), and Terry Graham (drums). Jeffrey Pierce begins playing rhythm and lead guitar on stage. (Working with guitar virtuoso Jim Duckworth the previous year had been a time of learning for Pierce.) The Gun Club records the Las Vegas Story with Jeff Erich producing. Revered Blasters guitarist Dave Alvin guests on guitar. Jeffrey Pierce announces to Los Angeles friend Peter Case that he intends to stay in England after the band's forthcoming European tour is completed. Midway through the Gun Club's European tour drummer Terry Graham quits for the last time. (Much animosity had been building up between Pierce and Graham over the past three years; the two wouldn't speak to one another for more than a decade.) The Las Vegas Story tour winds down with a pickup drummer. The remaining members of the Gun Club (Pierce, Powers, Morrison) decide to disband the group.

Late 1984 Jeffrey Pierce meets soon-to-be girlfriend Romi Mori at the penultimate Las Vegas Story tour show.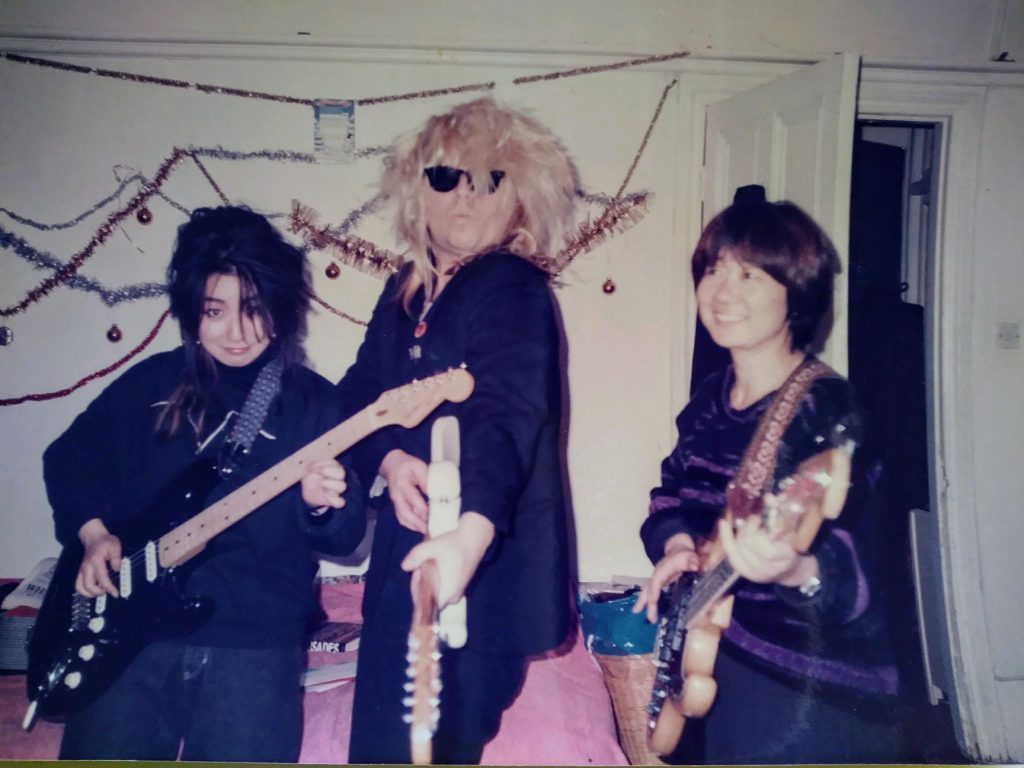 1985 Solo Career With the Gun Club disbanded, Jeffrey takes the logical course or pursuing a solo career.

Pierce signs with the now-defunct Statik Records. A studio band is put together for Jeffrey Pierce's upcoming record, Wildweed.

New York producer Craig Leon (producer of Suicide's self-titled record) signs up to produce Wildweed. Wildweed is released.

Statik forms a group for the Wildweed tour. Former Clock DVA rhythm section Nick Sanderson (drums) and Dean Dennis (bass) accept the role of tour support. Jeffrey's girlfriend Romi Mori plays guitar on the tour. Jeffrey plays rhythm and lead guitar and provides vocals.

Summer 1985 A mammoth tour of the United States is devised to coincide with the release of Wildweed. The tour is grueling and, although the group gets along well, it's marred by a tour manager's disappearance and along with him the group's money. Statik releases Jeffrey's only spotty outing, a 12-inch EP entitled Flamingo.

1986 The Second Version of the Gun Club and Mother Juno Jeffrey Pierce and Kid Congo Powers decide to reform the Gun Club. Off the strength of Nick Sanderson's drumming and growing friendship with Jeffrey Pierce, he is asked to join the resurrected group. Although Jeffrey's girlfriend, Mori is an accomplished musician in her own right, and asked to make the transition from guitar to bass. Her bass work becomes an integral part of the second version of the Gun Club. The Gun Club plays a short tour of the U.K. (Since Mori is sick in Japan, Bad Seed Barry Adamson plays bass on this jaunt.) The group considers Peter Hook (Joy Division, New Order) as producer of Mother Juno their upcoming album. They finally decide on Cocteau Twin Robin Guthrie. Although Mother Juno is largely associated with Guthrie (who did produce two wonderful tracks, putting his idiosyncratic touch to ¡°Breaking Hands¡± and ¡°Hearts¡±), Nick Sanderson and Jeffrey Pierce produce most of Mother Juno in Berlin. Mother Juno is released to overwhelmingly positive reviews. The initial Mother Juno tour of the U.K is very well received. Pierce is on the top of his game, having lost a lot of weight and regaining his musical focus. Kid Congo Powers moves from Europe to Los Angeles.

1987 The second and third legs of the Mother Juno tour are marred by Jeffrey's excessive drink and unpredictability. Jeffrey Pierce is diagnosed with cirrhosis of the liver. He's 29 years old.

1988-1989 Jeffrey makes a serious bid for sobriety. To bide his time between music he picks up such random hobbies as boxing and shopping. Moves back to Los Angeles for a short time. Health worsens. Briefly attends AA meetings.

1990-1991 Pastoral Hide and Seek and Divinity EP The Gun Club records Pastoral Hide and Seek in Brussels, Belgium. The sessions for Pastoral Hide and Seek are morose affairs. Pierce is bottoming out with depression and failing health. Although recorded under strained circumstances, Pastoral Hide and Seek is a wonderful record; maturation in Jeffrey's songwriting is evident in ¡°Emily's Changed,¡± ¡°Another Country's Young,¡± and a reworking of ¡°I Hear Your Heart Singing.¡± Visits Vietnam. The group records another strong outing, the Divinity EP.

1992-1993 Nick Sanderson briefly leaves the Gun Club. Sanderson replaced by drummer Simon Fish. Pierce records a one-off album for a stripped-down blues side project, Ramblin' Jeffrey Lee with Cypress Grove and Willie Love. Kid Congo Powers leaves the Gun Club. He is replaced briefly by German Rainer Lingk (of Die Haut); Lingk is then replaced by Robert Marche. Nick Sanderson returns to the Gun Club in time to record the group's last album, Lucky Jim. The sessions for Lucky Jim are by all accounts dreadful. Pierce is at his lowest ebb and his long-term relationship with Romi Mori is coming to an end. Recorded in Holland, Jeffrey has easy access to copious amounts of drugs, impairing his judgment in the studio with song tempos. Bad times abound. Like Pastoral Hide and Seek, Lucky Jim is against all odds another strong outing for the Gun Club. Although in terrible mental and physical shape, Jeffrey is by this time an unbelievably phenomenal guitar player. Over the past few years, Pierce had been playing guitar obsessively to fulfill an innate desire and to keep his hands occupied. The last shows recorded with this Gun Club lineup Pierce, Mori, Sanderson showcases how exceptional he has become. The most cohesive and stable band Jeffrey has had built around rhythm section Romi Mori and Nick Sanderson is disbanded.

1994 A time of disarray for Pierce. He's without a band, stranded in England facing deportation. Pierce is deported from England.

1995 Jeffrey returns to Los Angeles, but desperately wants to get to Japan. Through Mori, Jeffrey has become acquainted and fascinated with Japanese culture. Studies Japanese in earnest. A last loose lineup of the Gun Club is put together and plays several Los Angeles shows one at the Viper room, another at the Dragonfly. Lifelong friend Kid Congo Powers and old pal Mike Martt (Tex and the Horseheads, solo artist) play guitar. The shows vary: some are well-received, others are spotty. Jeffrey hangs around sister Jacqui Pierce again now that he's in Los Angeles. Frequently takes her to sushi bars around the city and imparts in her a deep reverence for Japanese culture. Pierce's failing health is quite conspicuous by this point. Friends Keith Morris and Mike Martt try to check Jeffrey into a Marina Del Ray rehab/hospital.

December 1995 Plays last show for Pleasant Gehman and Iris Berry's Ringling Sisters benefit.

Early 1996 Flies out to Utah to live with his father, Robert Pierce, in an effort to dry out and get his life back on track. Attends AA meetings and works on his autobiography for Henry Rollins's 2.13.61 Publications. Frequently calls his dear friend Kid Congo Powers; updates him on progress of autobiography; Powers starts looking for musicians in New York to get another Gun Club lineup going.

March 31, 1996 Jeffrey Lee Pierce suffers a brain hemorrhage and dies shortly afterwards. He was 37.

1998 Jeffrey's autobiography, Go Tell the Mountain, is released. November 11, 1998 With the help of Johnny Depp, sister Jacqui Pierce and (her husband) Johnny Faretra hold a Jeffrey Pierce tribute at the Viper Room on the Sunset Strip.

1999 Jacqui Pierce and Johnny Faretra look to re-release Jeffrey's out-of-print catalogue.

April 1, 2002 Jeffrey and Jacqui's father, Robert Pierce, passes away. (At the time of his death, Robert was looked after by Jacqui Pierce and Johnny Faretra in their West Los Angeles home with the aid of Kaiser Hospice.)

2004 With the help of Blondie's Chris Stein, Jacqui Pierce and Johnny Faretra finally find a label for the early Gun Club's catalogue in Sympathy for the Record Industry. Miami, Death Party EP, and Las Vegas Story are reissued by Sympathy.

2005 Another Gun Club reissue (Mother Juno) as well as the rerelease of Pierce's solo album, Wildweed.

2006 Kid Congo Powers, Jeffrey's closet friend and frequent musical collaborator, releases Solo Cholo, a retrospective CD of his two decades as a solo performer.

March 31, 2006 To mark the 10th anniversary of Pierce's passing, a tribute show is held at the Scene in Glendale. The Guilty Hearts, The Geisha Girls, and Gabriel Hart (with percussion accompaniment by Jacqui Pierce) perform. Keith Morris, Jacqui Pierce and Johnny Faretra DJ.

March 11, 2007 Jacqui Pierce participates in one of her biggest Japanese dances Wakashia-kai at the James Armstrong Theater in Torrance, California. Japanese dance is way for Jacqui to pay tribute to her brother's memory.

April 7, 2006 Another tribute show, put on by Eric Moffat at Annie's Social Club in San Francisco. The Dwarves, Corey Porter and the Subletters, Marcus Shelby, Rykarda Parasol, Tom Heyman, and Pierce's old friend Chuck Prophet (with Eric Drew Feldman) perform.

October 20, 2006 Jeffrey's ashes are spread by Jacqui Pierce and Johnny Faretra in Kyoto, Japan. He's given a new Buddhist name: Shaku Chi Ken (English translation: Buddha Who Sees Wisdom in Others).